Posted by Tracey M. Kramer on 7th Feb 2018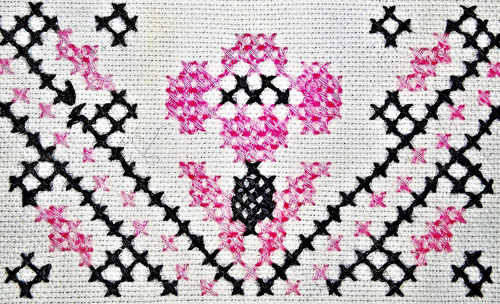 What is the difference between cross stitch and embroidery?
Cross Stitch and embroidery are very different in appearance. In cross stitch, a complete stitch is created by forming an "X" with your stitching. You simply start from the bottom left and make a diagonal stitch to the top right. Then starting at the bottom right, make a diagonal stitch to the top left; thus, an "X" is completed. Cross stitch can also be completed by doing a series of diagonal stitches to the right in a row, then working back to the left by crossing each stitch with diagonal stitches to the left completing a row of cross stitch. Cross stitch is stitched on a variety of frames from circular frames to scroll frames, or frames that look like they're made from PVC pipes for extremely large projects too large to fit on a scroll frame. Embroidery, on the other hand, uses lots of long stitches in various lengths to fill in pre-outlined spaces. Embroidery and needlepoint are similar in that they both use long stitches and a large variety of specialty stitches which range from very simple to complex. Embroidery is usually stitched on circular frames that vary in sizes from tiny to very large floor stand frames.
How Many Strands of Floss to Use?
When you begin a project, the pattern usually will tell you how many strands to use. Most patterns require 2 strands of floss. Each DMC skein comes equipped with floss that is 6-ply (which means it contains 6 strands of floss). In order to get your two strands of floss to begin your project, you will need to cut an 18-inch strand of floss from your skein and then separate two strands of threads from the remaining four. Take the remainder thread and rewind it into your skein. Now you are ready to thread your needle with your two-stranded floss. There are some exceptions to using two strands. Some patterns have delicate facial features which require using one strand of floss and stitching over one thread on even weave. Another exception is that sometimes a needlepoint project will require all six strands of floss so that stitch coverage will be complete. In that case, no separation of the threads is required.
Where do Novices go for Easy Cross Stitch Patterns?
I taught both of my daughters counted cross stitch by first starting them off on stitching simple motifs. They are fun, colorful and are something you can finish very quickly. The motifs were featured in a wonderful cross stitch magazine named Cross Stitch & Needlework that went out of business, but I have saved all of the issues as they have proven to be invaluable to me. You can find similar simple cross stitch patterns for FREE at the following places online: The first is called The Spruce at https://www.thespruce.com/simple-cross-stitch-for-beginners-4122024 which provides FREE patterns for beginners. Another site which provides FREE patterns in full color as well as helpful tips to help you along the way is called Tiny Modernist Cross Stitch Patterns at https://tinymodernist.wordpress.com/free-downloads/. Their patterns are simply adorable and can be worked up quickly! Once you've mastered these, and have completed several motifs and gained confidence, feel free to try one of our easy Level 1 patterns listed at Sunrays Creations Needlearts. The patterns on the Level 1 category of difficulty are simple patterns that are interesting, fun to work and easy to follow.